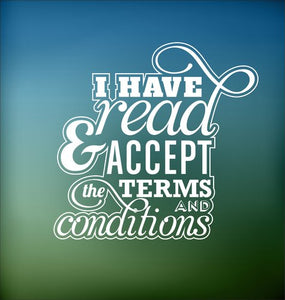 Genom att beställa en vara hos oss, godkänner Du våra Köpvillkor. Läs noga igenom innan.
Genom att beställa en vara, bekräftar Du att Du fyllt 18 år
All privat information Du tillhandahåller, kommer att behandlad av Loven & Co med största sekretess och kommer inte att säljas vidare till tredje part.
Händelser utanför Loven & Co's kontroll betraktas som Force Majeure (strejk, brand, översvämning, etc)
I kundvagnen bekräftas samtliga kostnader inkl transport och moms. Alla synliga priser inkl. moms.
Gällande pris är det som visas vid ordertillfället.
Kreditkortsinformation skickas över säker SSL kryptering och är inte lagrad.
Var beredd på att lokal skatt och Tull kan tillkomma beroende på var i världen Du bor.
Loven & Co förbehåller sig rätten att när som helst ändra information och priser i butiken utan föravisering.
Terms & Conditions in short
By ordering any of our products, you agree to be bound by these terms & conditions.
By placing an order at Loven & Co AB, you warrant that you are at least 18 years 
All personal information you provide us with or that we obtain will be handled by Loven & Co as responsible for the personal information.
Events outside Loven & Co's control shall be considered force majeure.
The price applicable is that set at the date on which you place your order.
Shipping costs and payment fees are recognized before confirming the purchase.
Card information is transmitted over secure SSL encryption and is not stored.
Please note that local charges may occur.
Loven & Co reserves the right to amend any information without prior notice.